About Us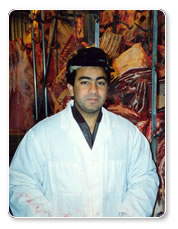 AlMeat is an import, export, wholesale and distribution company trading in fresh and frozen beef, veal and poultry, and offals. We specialize in assisting customers to source and distribute meats from the markets of Canada, USA, Australia, New Zealand, Brazil, and Uruguay. We purchase from all major suppliers in these markets in order to meet our customer satisfaction and needs. Their success is our obsession.
Our customer base extends to all sectors of the industry including major retailers, processors, the hotel, restaurant and institutional sector, food services distributors, wholesalers, local butcher shops and jobbers.
Mahmoud started all the way from the bottom performing a variety of duties on kill floor and in boning room and cooler.
As a result of long standing relationships with producers and processors, Mahmoud has the ability to develop specific product specifications and packaging which can be new suppliers and unique to processors.
Domestic Ontarian customers compliments his world wide operation recognizing supply and demand, matching them with his client base and allowing both suppliers and customers to achieve price advantage and good quality over competition.
What we do:
We provide a market place to both buyers and sellers.
Supplier base comprises of producers, exporters and distributors of meat ingredient raw material.
We are market makers for our clients. We take on all risks inherent in their transactions providing logistic, finance, and currency options, market opinions, research and information.
We understand that producers want to produce at the lowest cost, highest throughput and over the shortest cycle possible.
We continuously provide our suppliers with up to the minute international market information.